Post by george on Apr 10, 2016 10:35:41 GMT
Here's my photographs from the show yesterday, but please don't think this is 'my' post only - feel free to add your own photos to the same thread and we'll make it a lovely big archive of the day with as many pictures as people managed to take
I didn't take a full set of pictures of every class, just because it would have taken so long and left less time to chat - and make sure my own Julips were in the right place at the right time! - but I made sure I got a picture of the first and second place in the championship while they waited in line for the next round of judging, so you can at least see the
winners
if not every single entrant!
I've edited in the names and owners I didn't know from the results list Elli posted

Bay class 1st and 2nd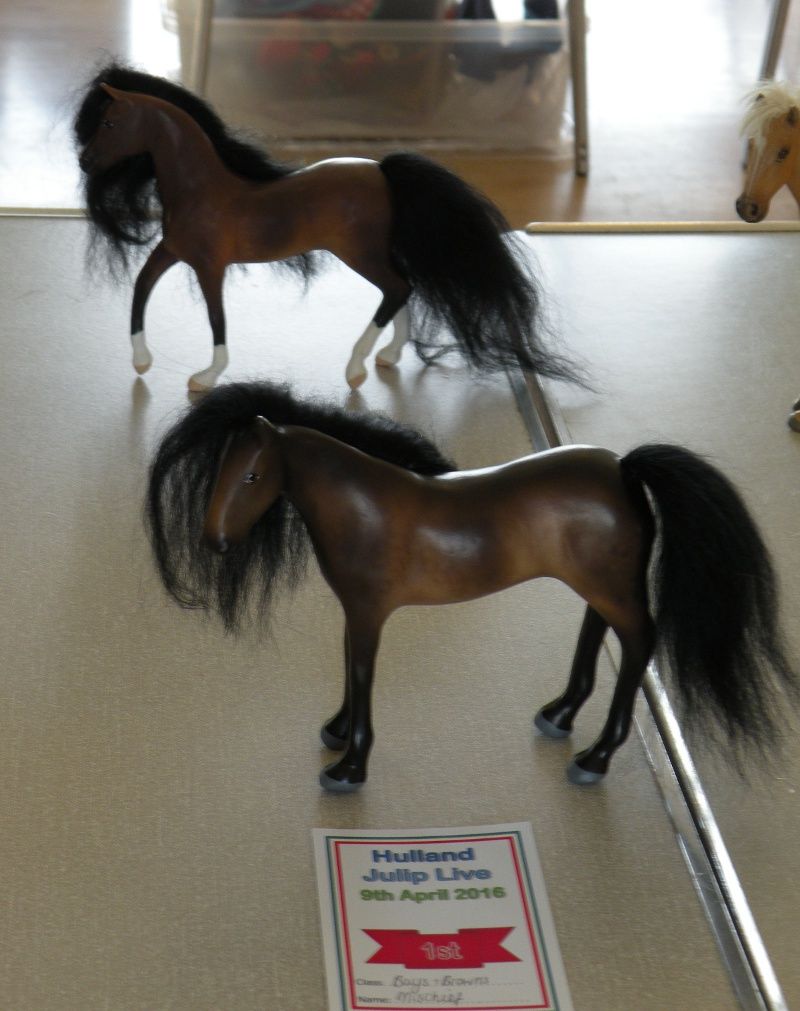 The TB is Josie's new lad Mischief, the bay arab mare is Elli's
Chestnut class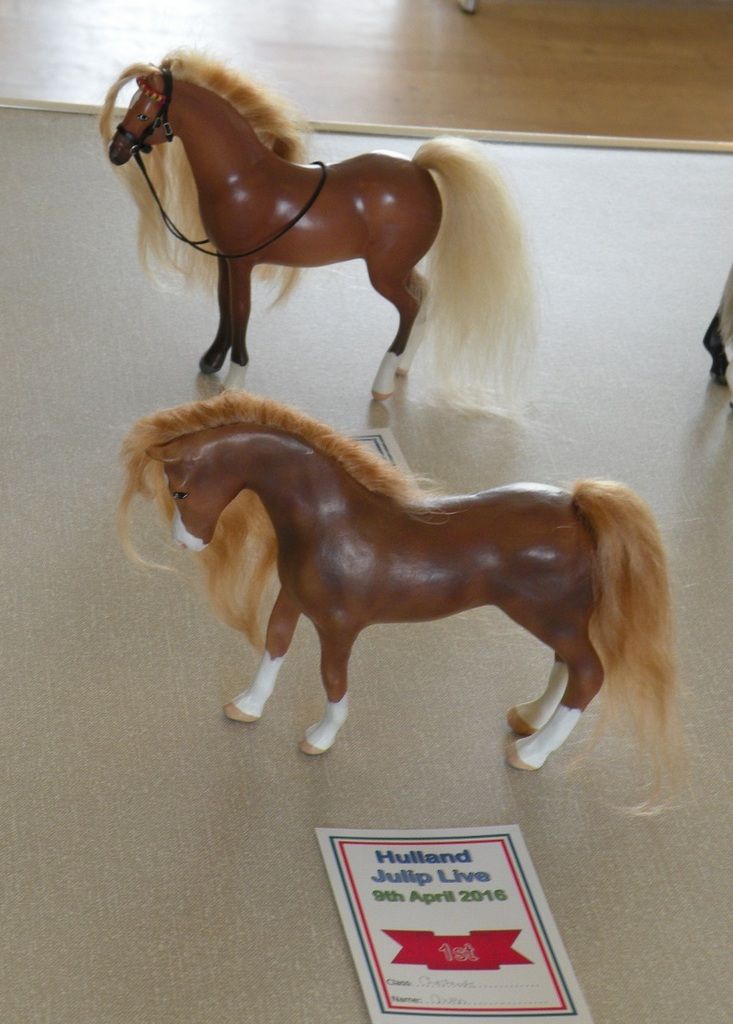 Owen and Jan's CJP Russet
Spots and stripes class
Elli's mule and my William Blake in second place
Piebald and skewbald class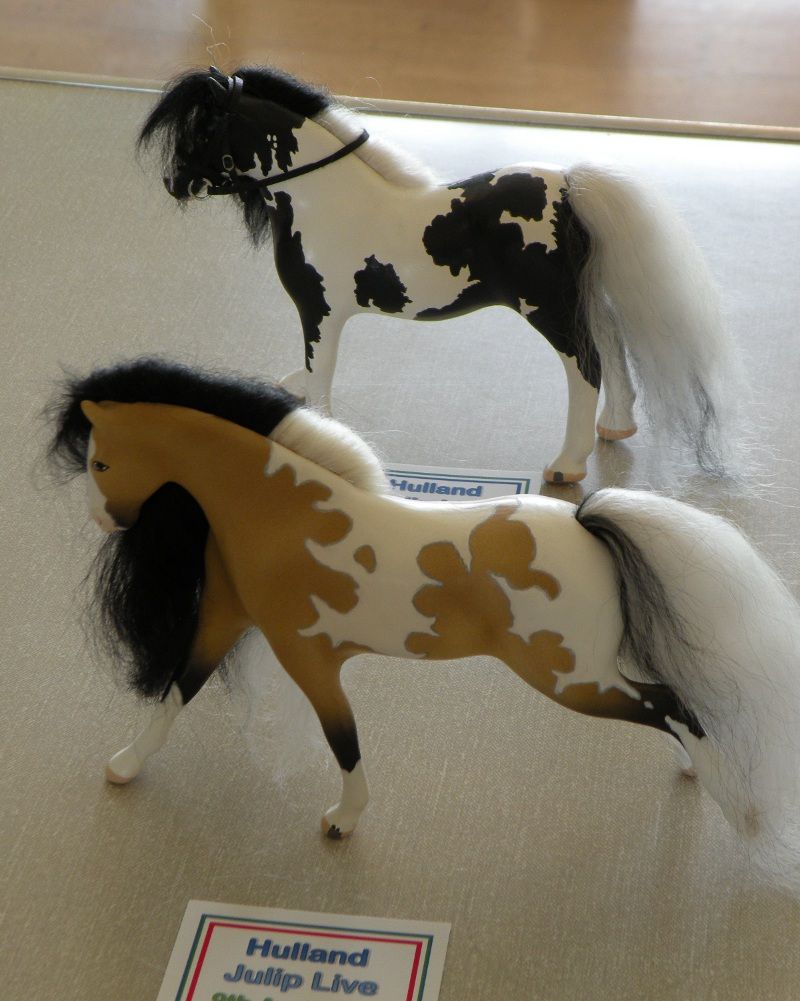 Kits' eventer and Josie's Bessie
Dun/buckskin class
Adelaide's Ted and Elli's arab mare
Grey class
Adelaide's Chanelle and Elli's dappled grey CJP
Palomino class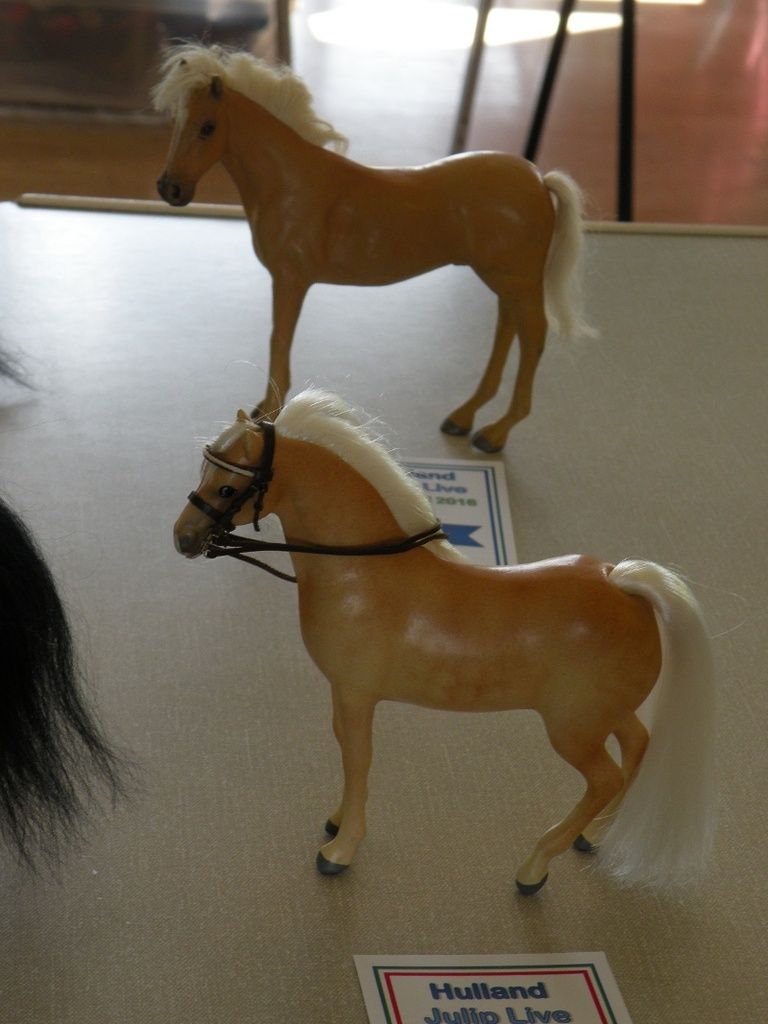 My Stardust and Stacey's Phantom
Other Colour class
The winner belongs to Kits but doesn't have a name yet, the one behind it is mine
You can meet him properly a bit later but I actually managed to name him already and he's now called Smoke And Oakum (after Hazel suggested that as seperate names for my gerbils, but I think it works just as well as one long name for a horse!)
The championship went to public vote with tokens for first and second, and the winners were...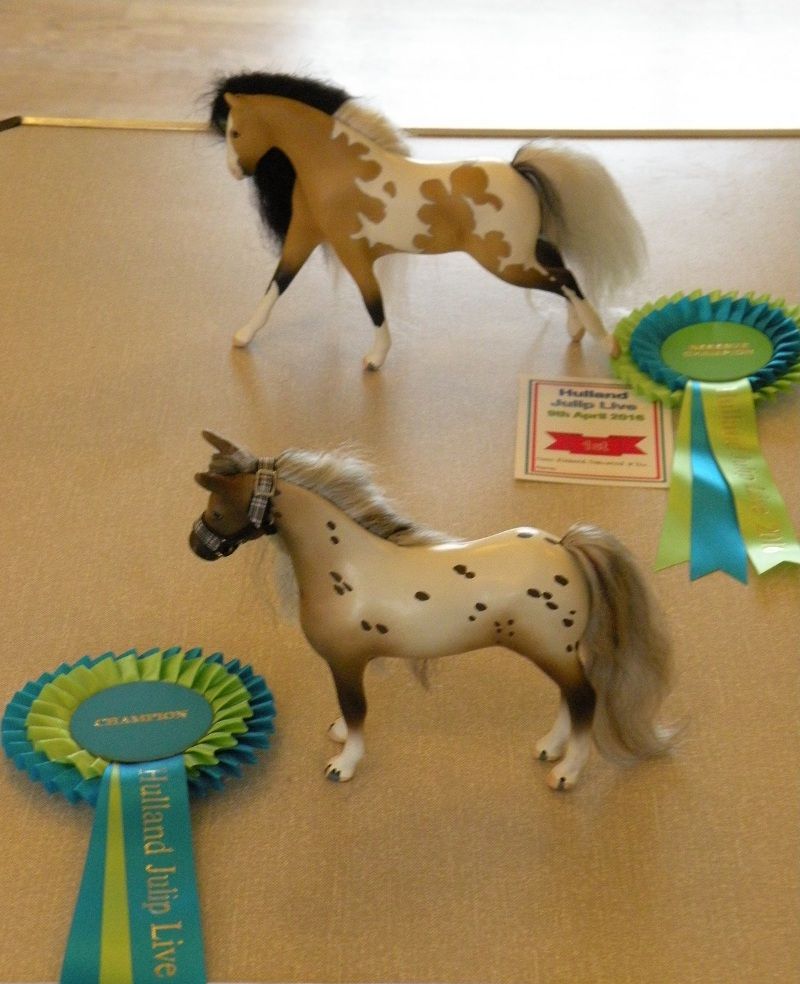 Elli's spotty mule and Kits's dun skewbald eventer
Next, the moulds classes...
Pony moulds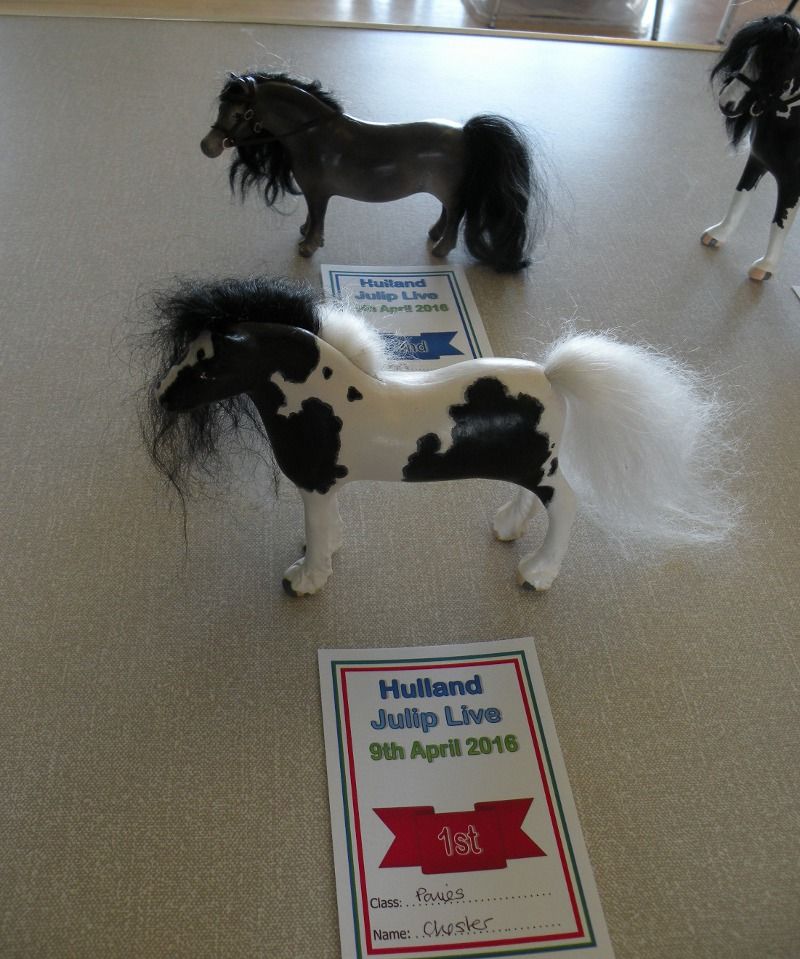 Jan's Chester and Josie's Pip
Cob moulds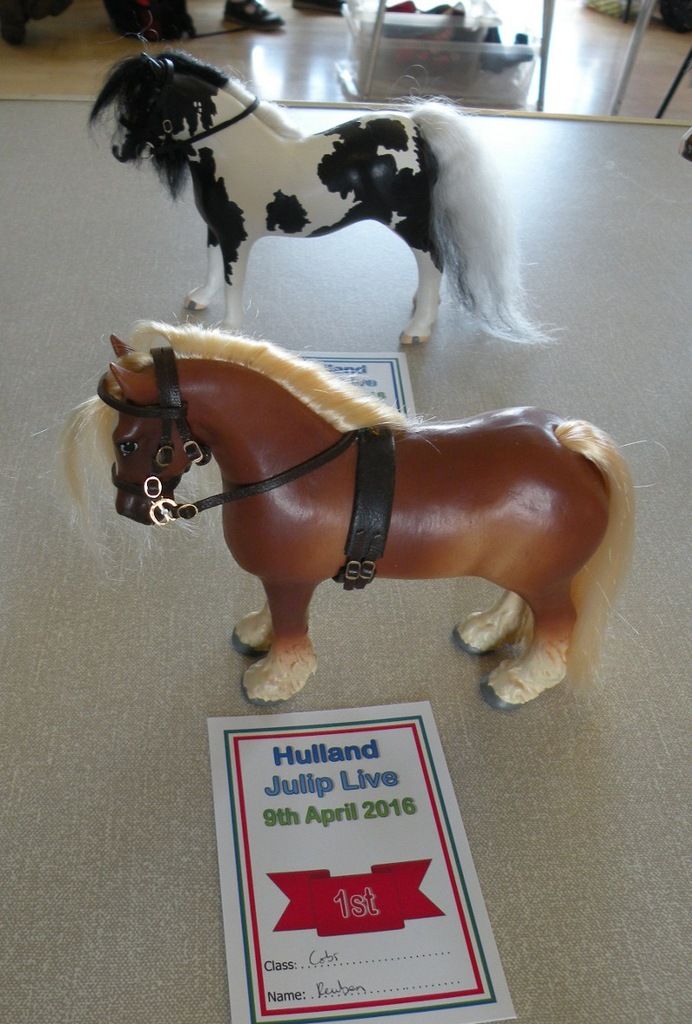 My Reuben and Josie's Bessie
Hunter/TB/Eventer/Sporthorse
Elli's Starman and Stacey's BB
Arab moulds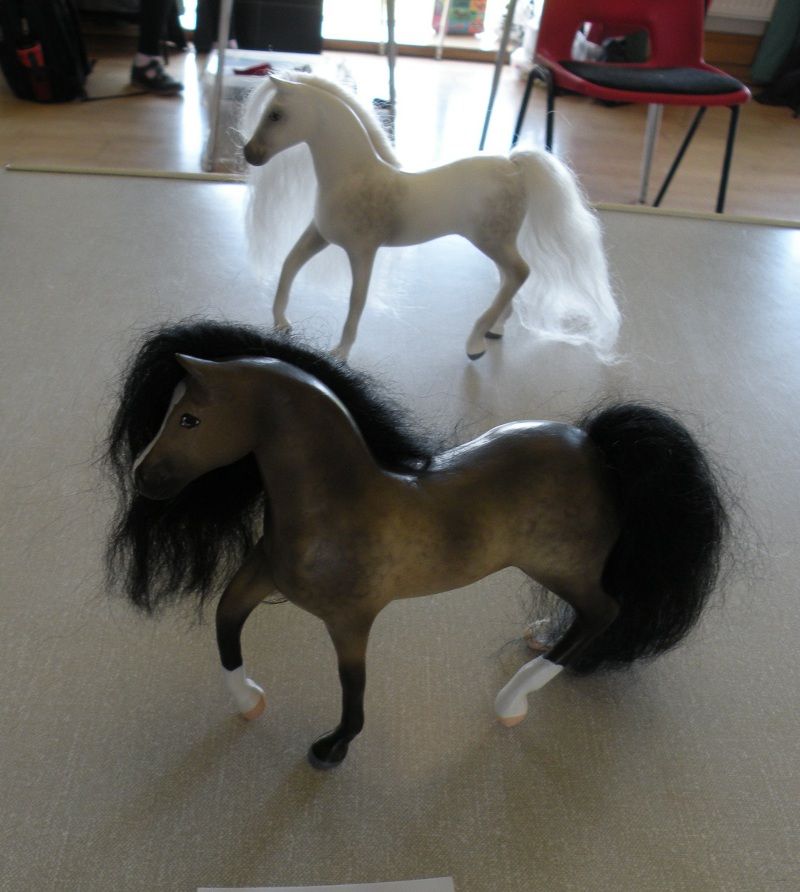 Both Elli's but I don't know either of their names, and quite possibly they're called Dun Arab Mare and Grey Arab Mare

Vintage moulds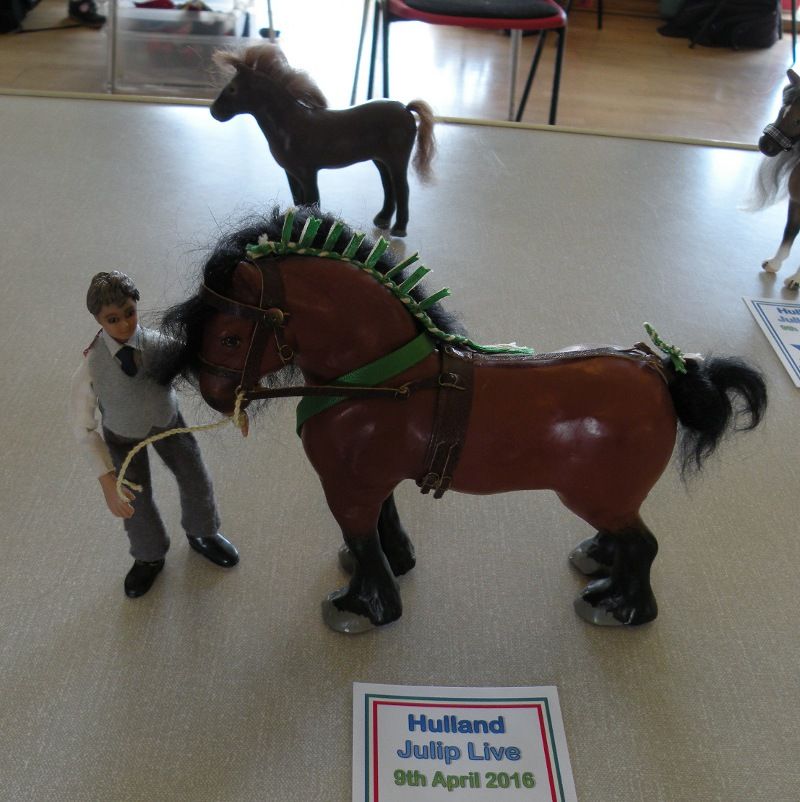 My William and Stacey's Elmo
Donkey Mule and
Exorcist
Exotic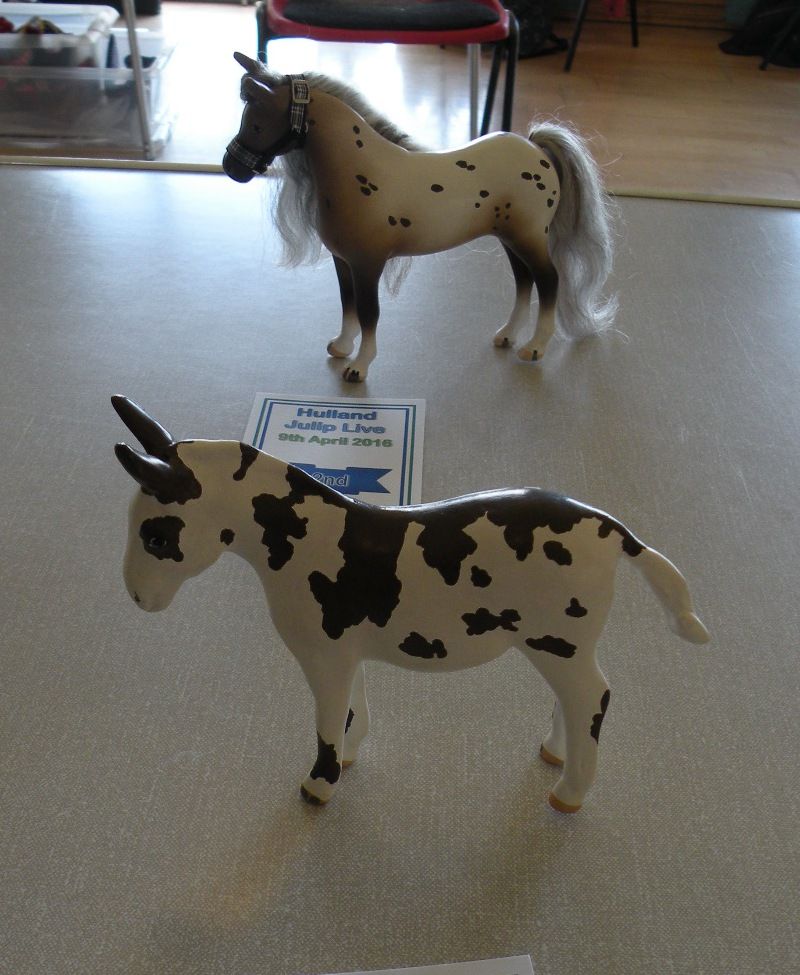 Adelaide's Lizzy and Elli's spotty mule
Youngstock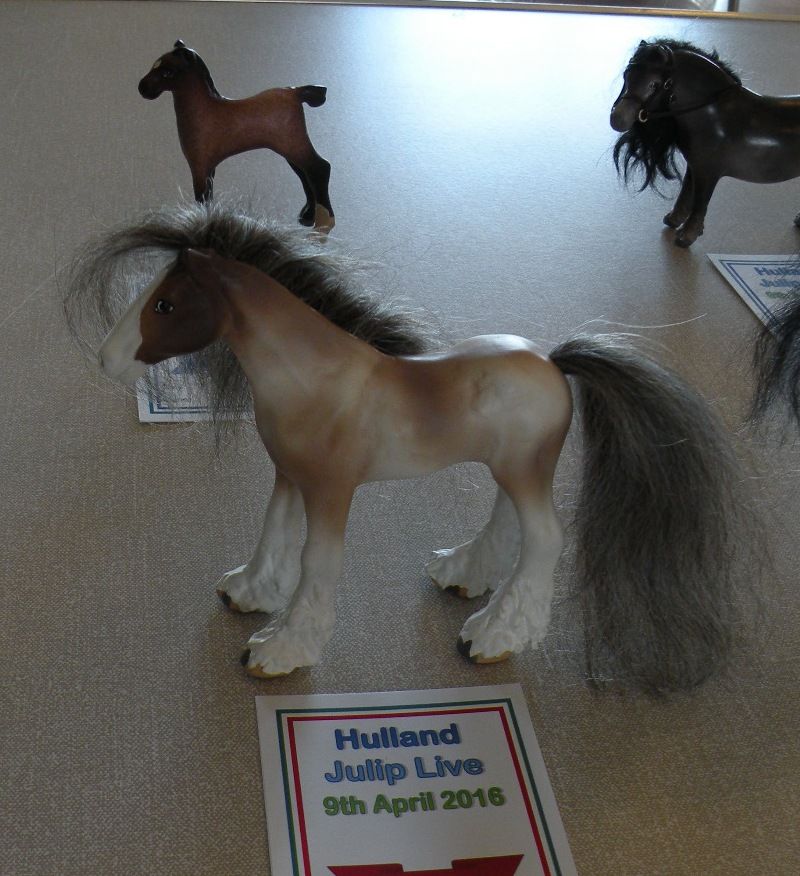 Stacey's Buxton and Elli's roan foal
The voting for moulds champion was just as hard to decide as in the colours classes, after much adding up and a tie-break vote the winners were...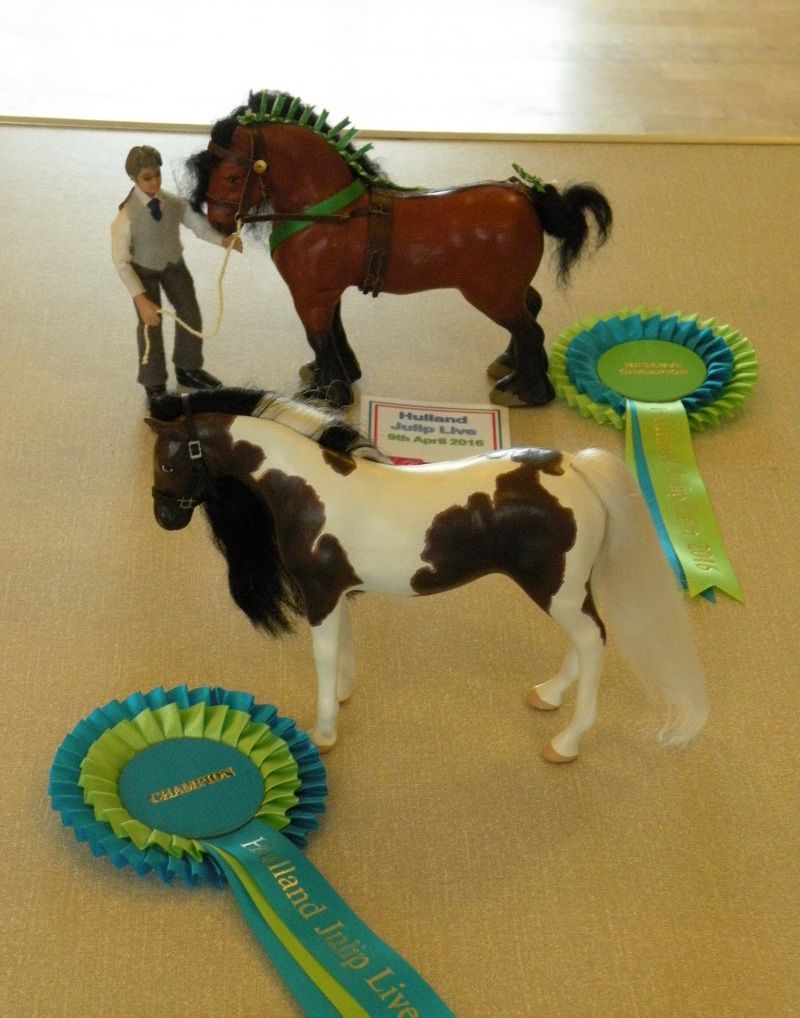 Starman and William
The scene classes were next, but cos those are always such a rush to get your own one set up the ages spent peering and oooh-ing at everyone else's, I didn;'t actually get pictures of everything - hopefully others did!

So, on to the ridden classes, where I was a lot more organised and got a photo of every entry
But I don't have the credits for who's who in these classes, so if you want to tell me which photos show your horses and what they're called, I'll edit their info in for the record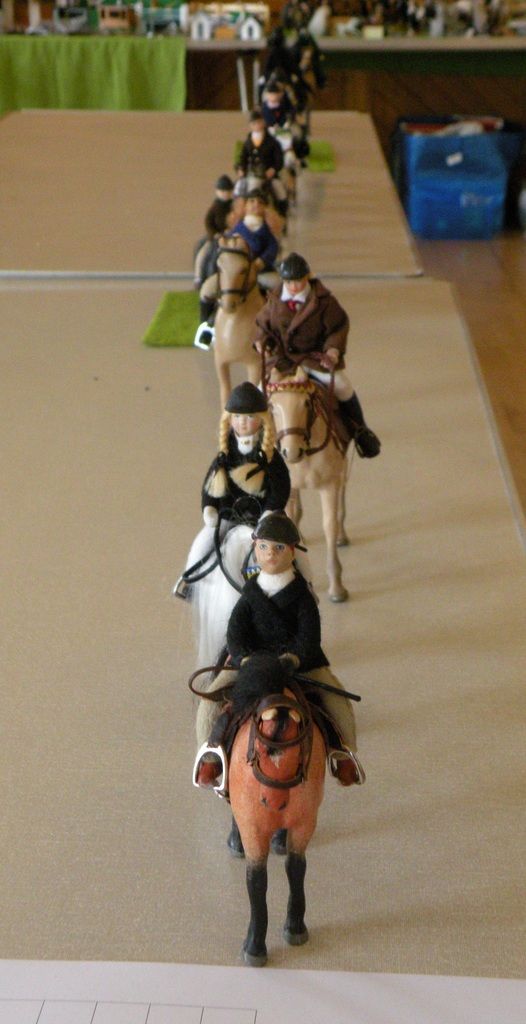 The first ridden class was specially for horses and riders in English show turnout, and it was really great to see the whole ring full of formally dressed riders in traditional tack - much as I love the casual and sporting entries it was lovely to see a sort of return to the older rule of 'ridden' being for showing turnout and everything else being given it's own class!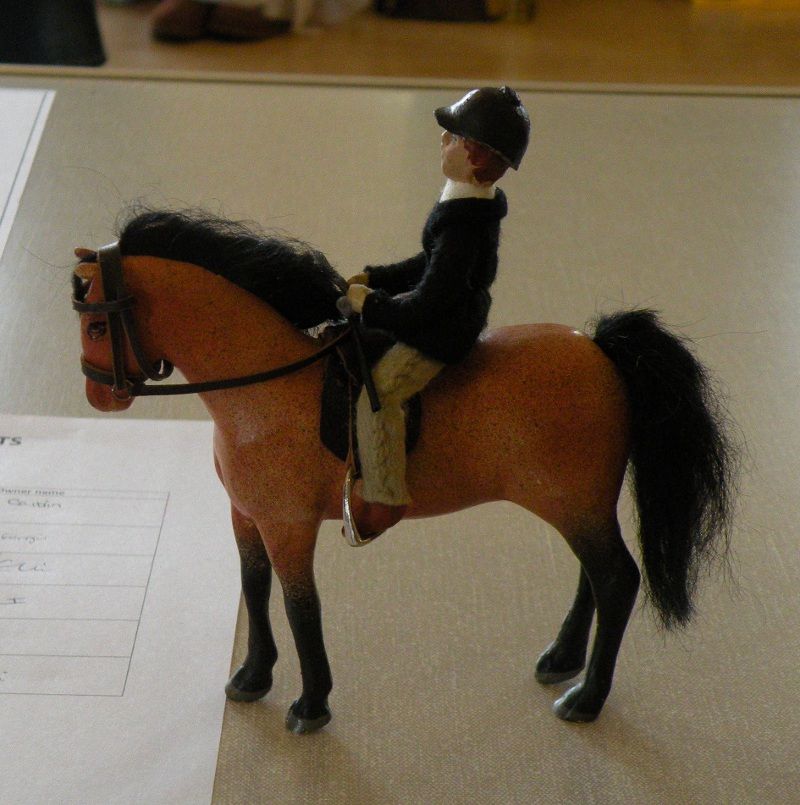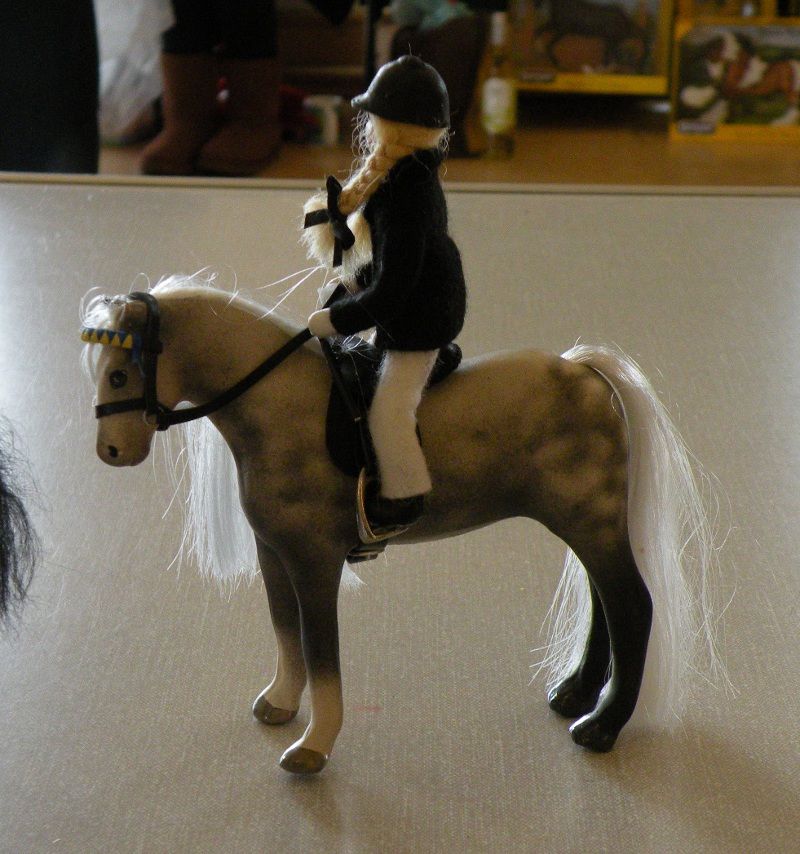 Stacey's Flossie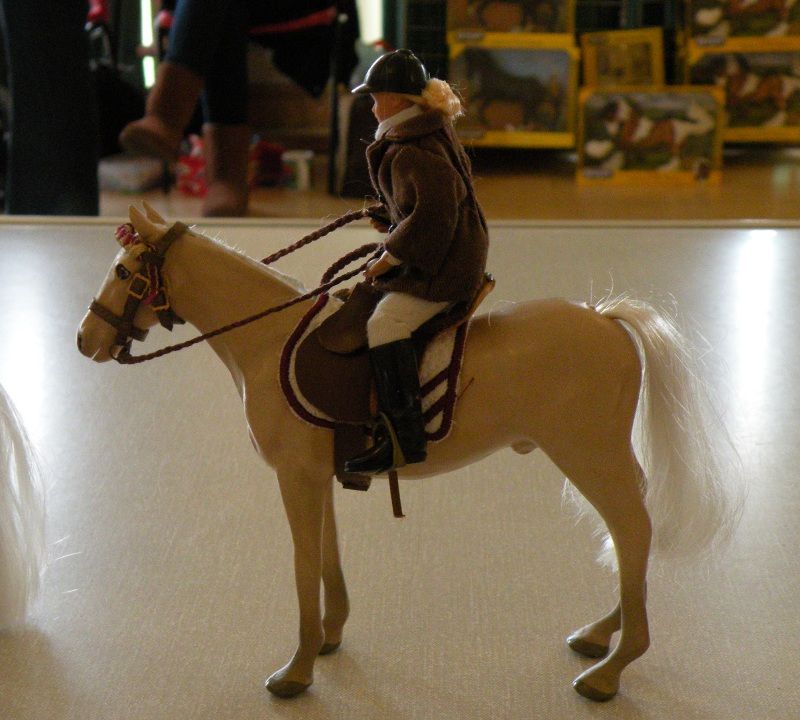 Manda's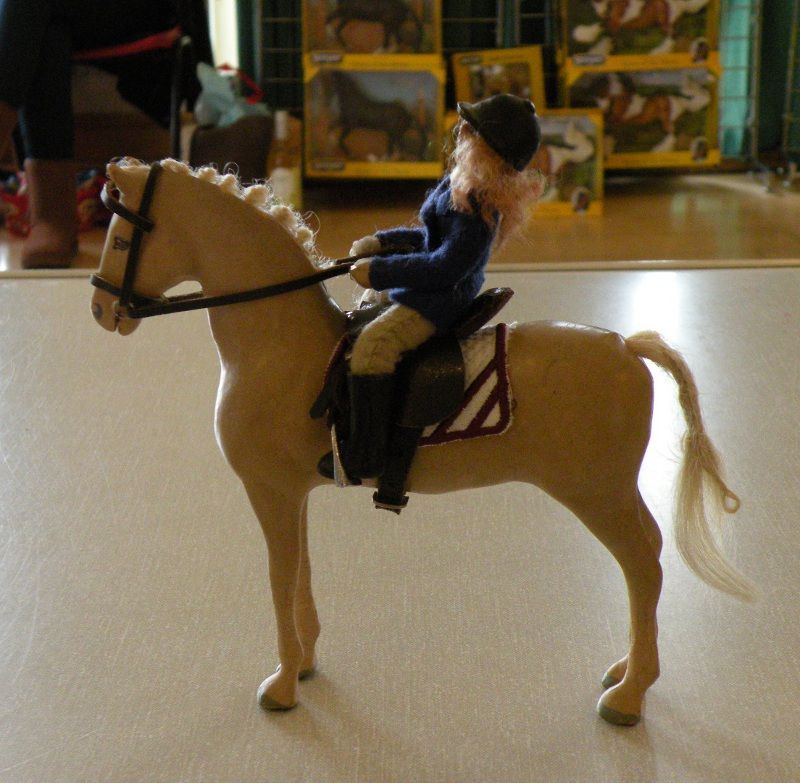 Manda's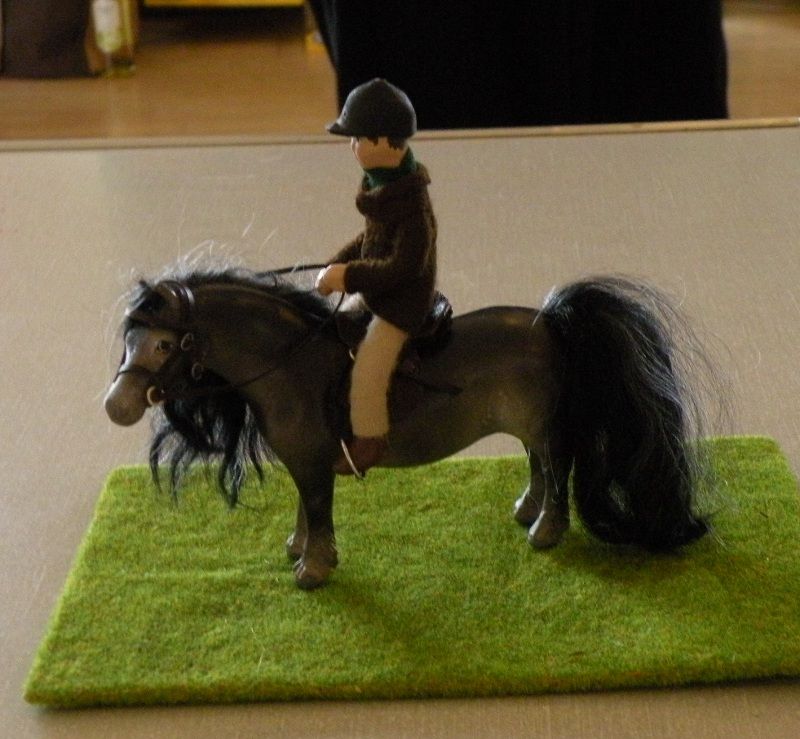 Josie's Pip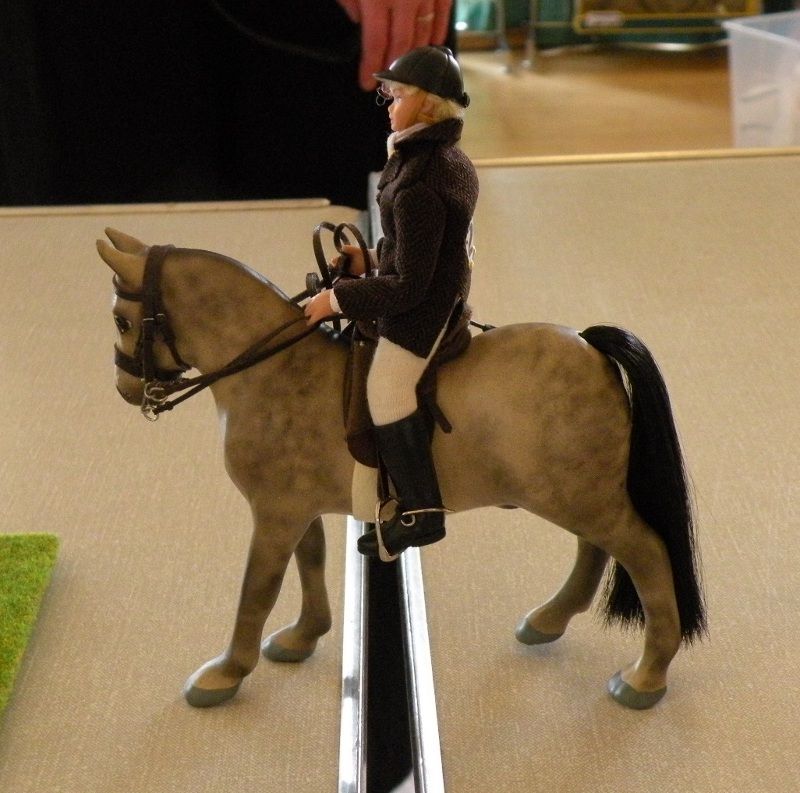 My Temeraire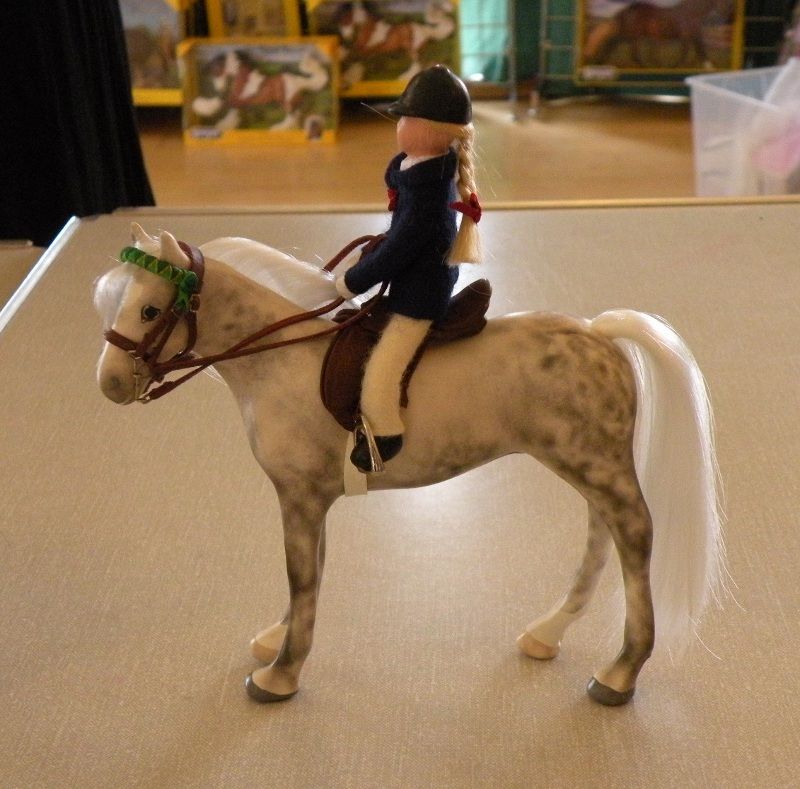 My horse, The Grey King, but with Josie's rider on, because I somehow lost mine between the last show and this one, she wasn't in the tackroom when I came to look for her so we had to improvise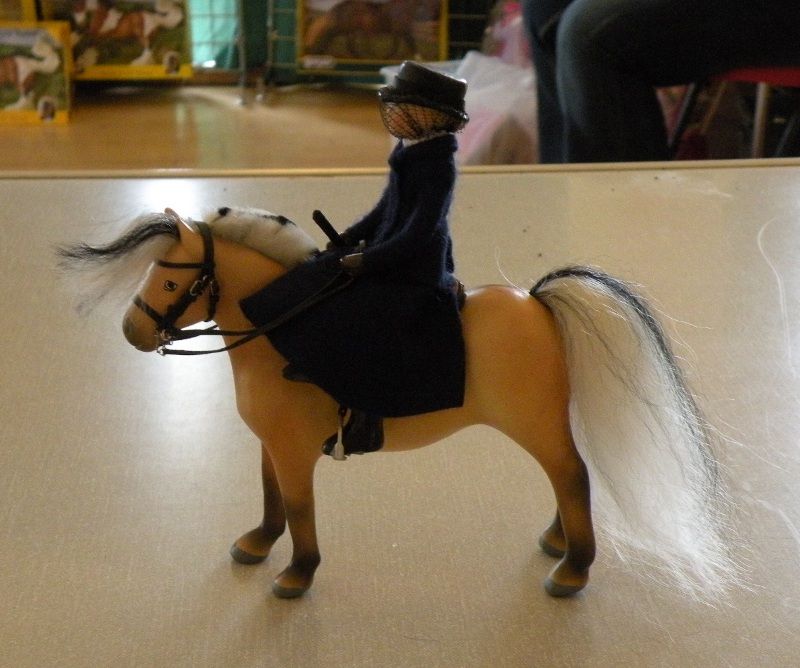 Jan's Simba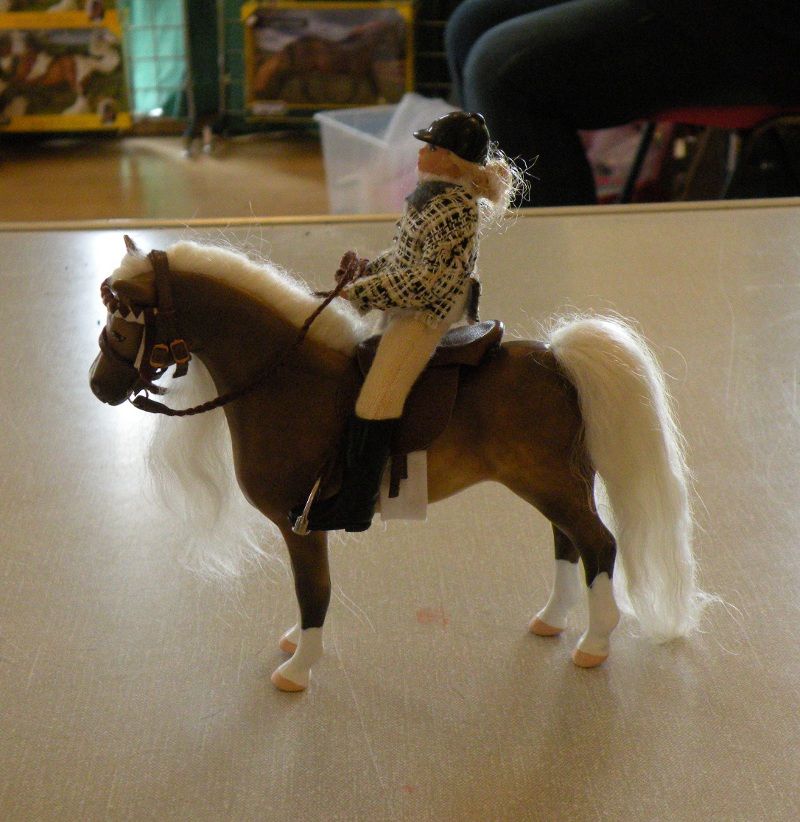 Elli's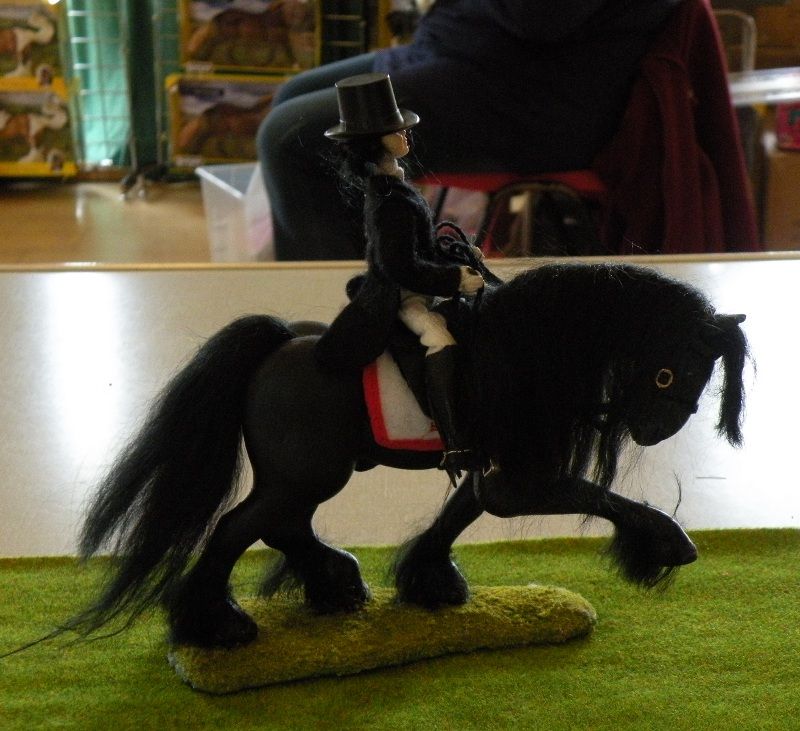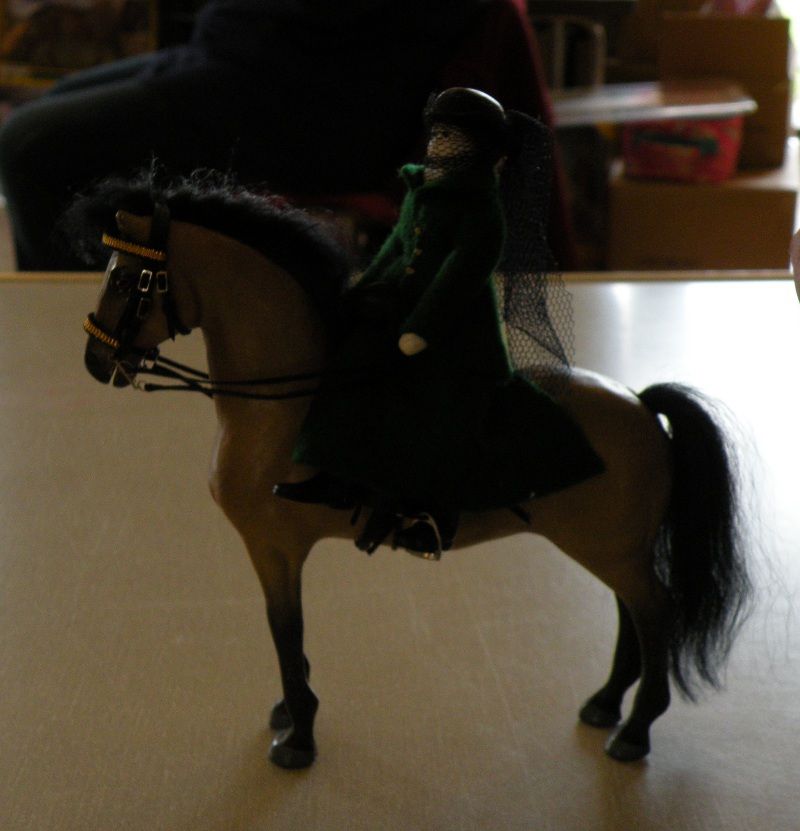 Laura's
Other Ridden was for everything except showring turnout, so we had a great mix in here!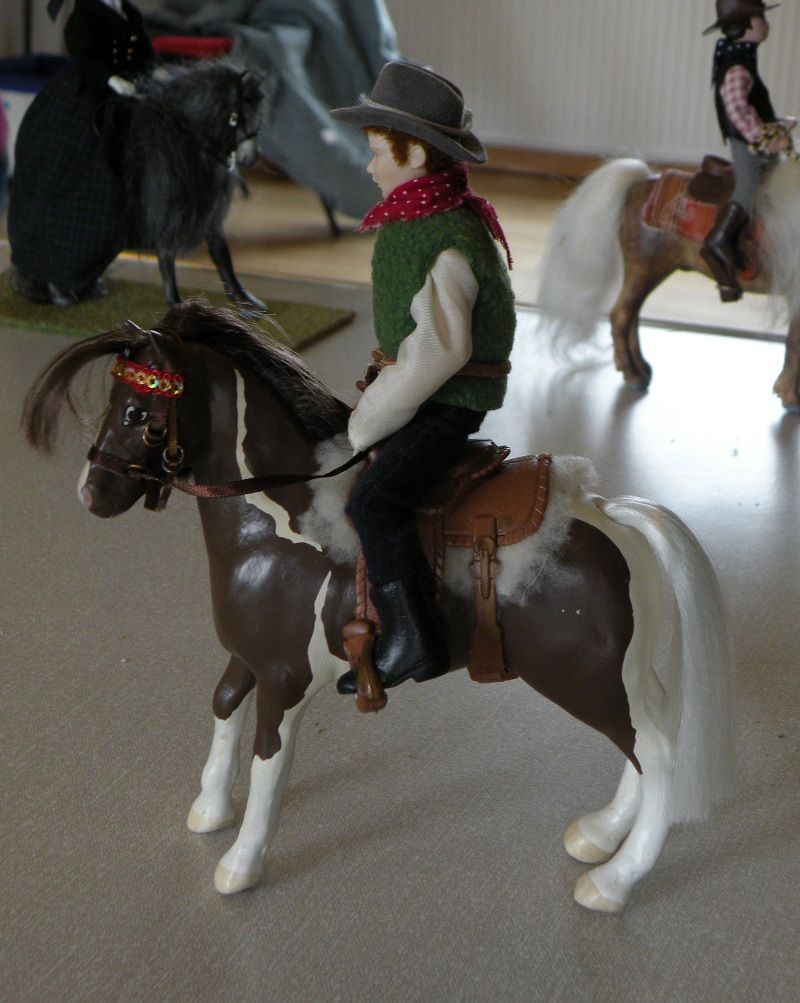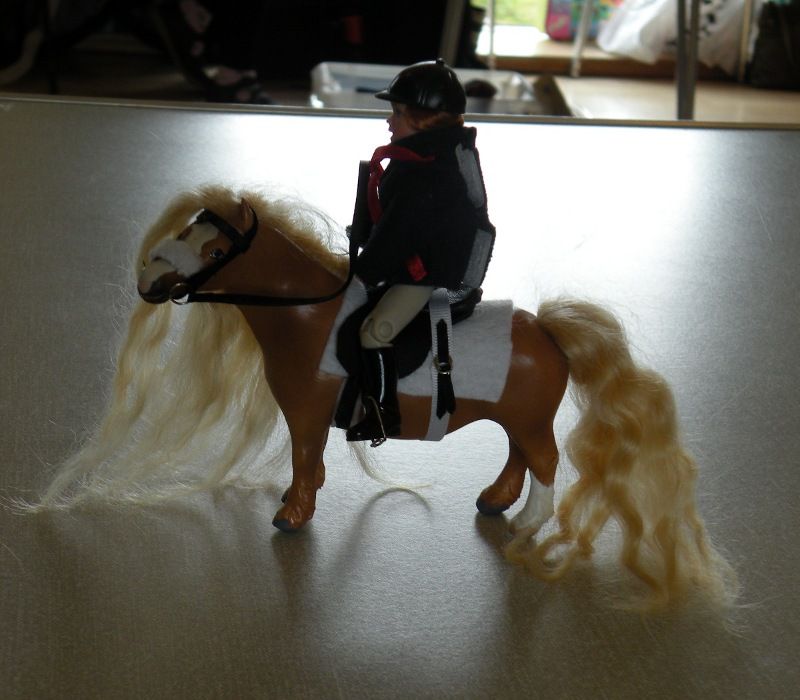 Kits's Bob in the shetland grand national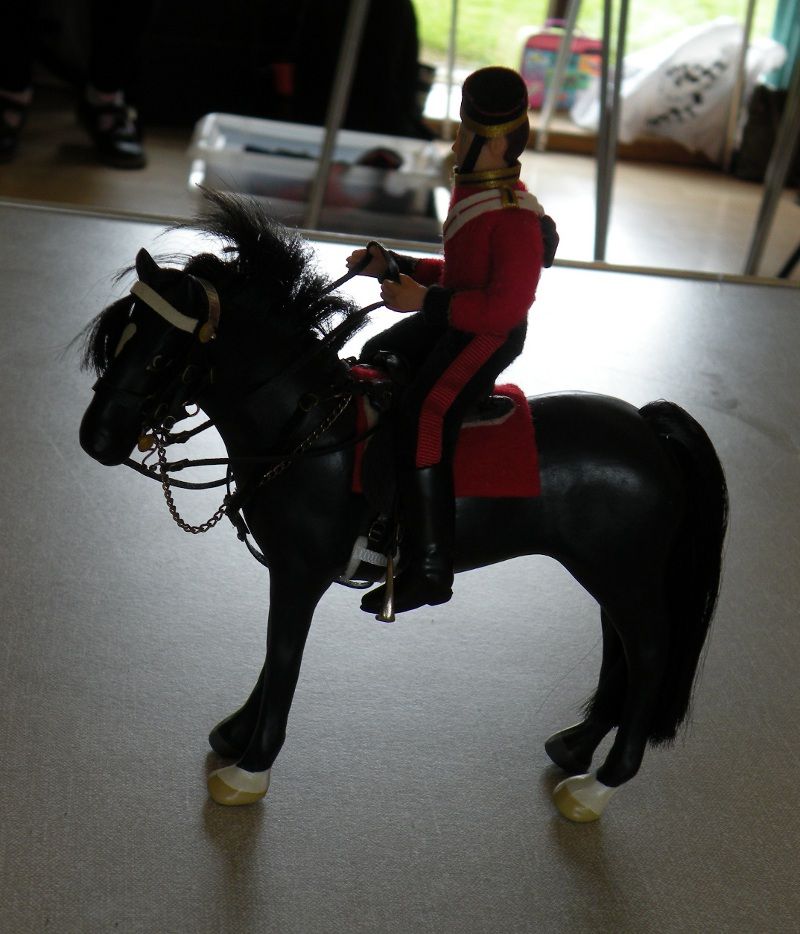 My Gandermack the cavalry black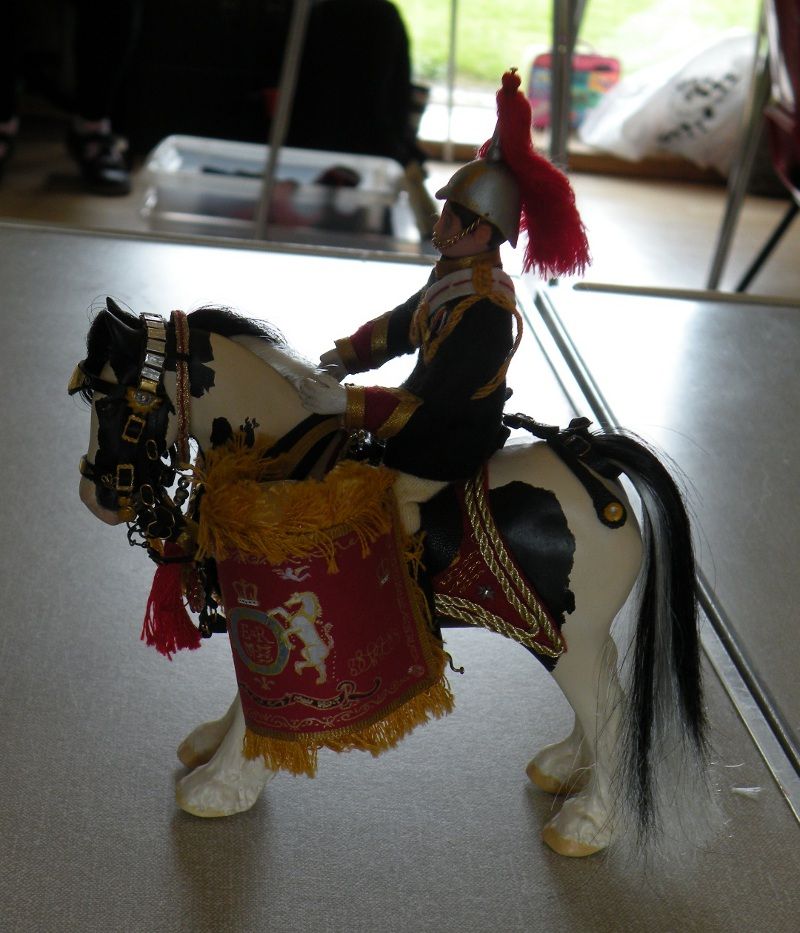 My Spartacus the drum horse of the Household Cavalry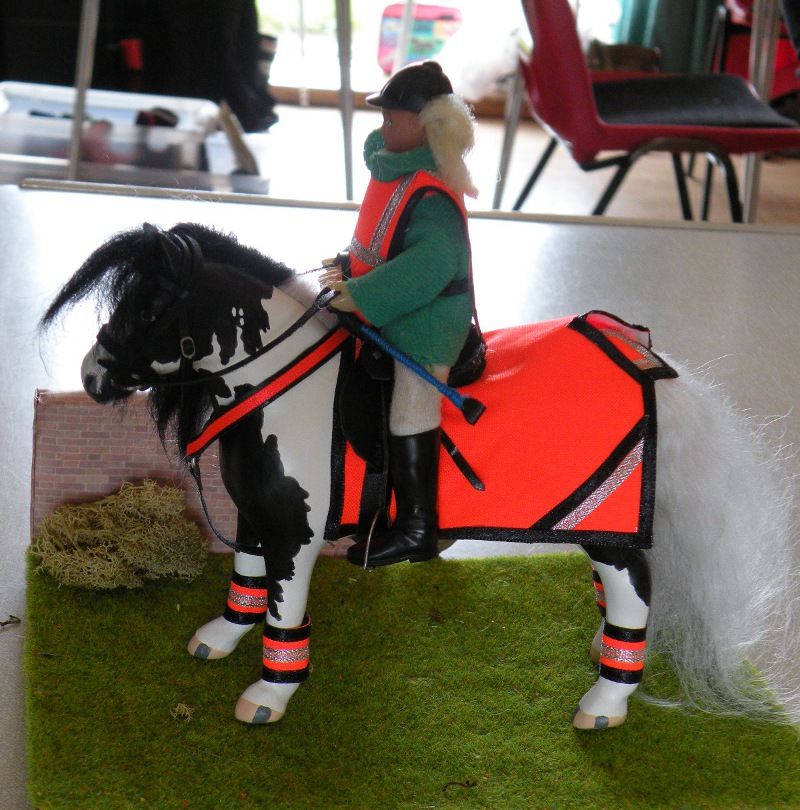 Josie's Bessie going for a hack in plenty of Hi Viz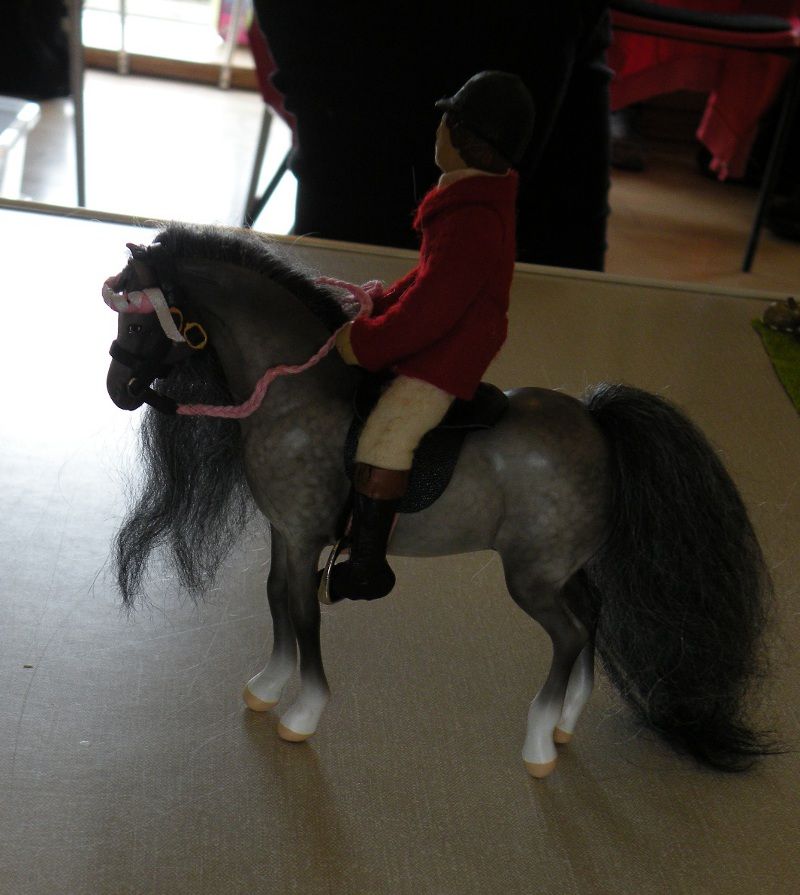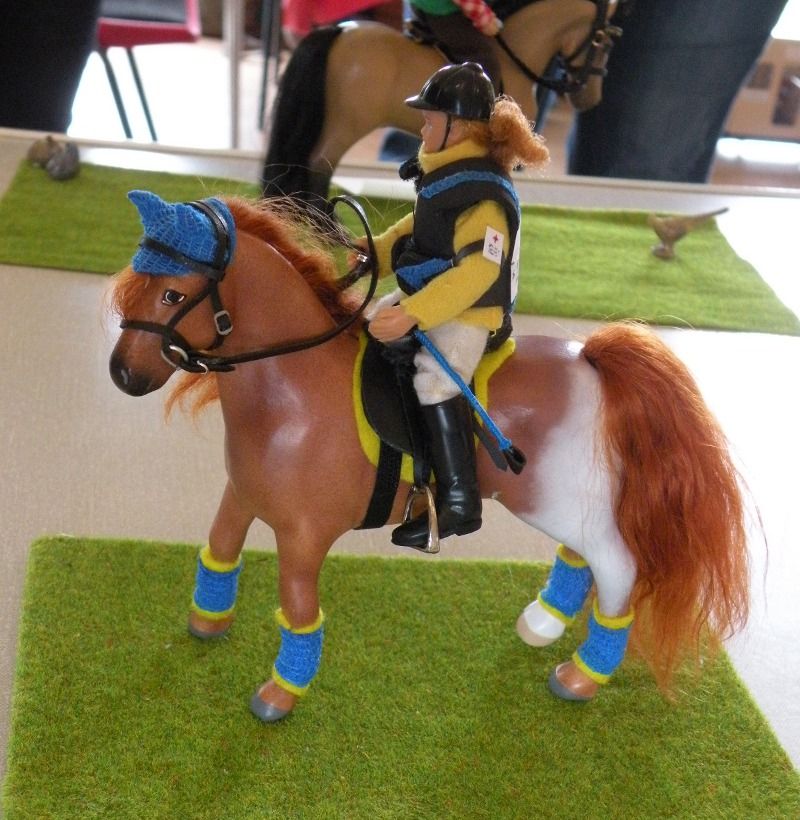 Josie's Rufus ready to go XC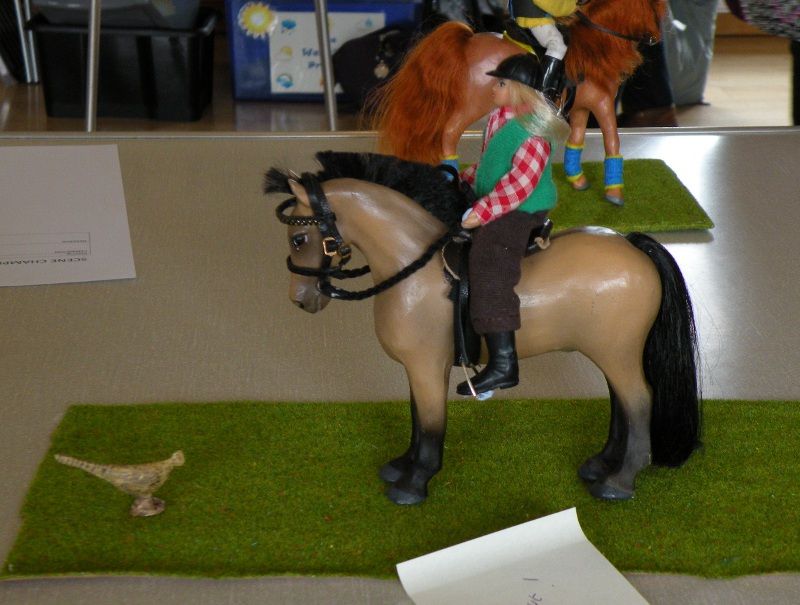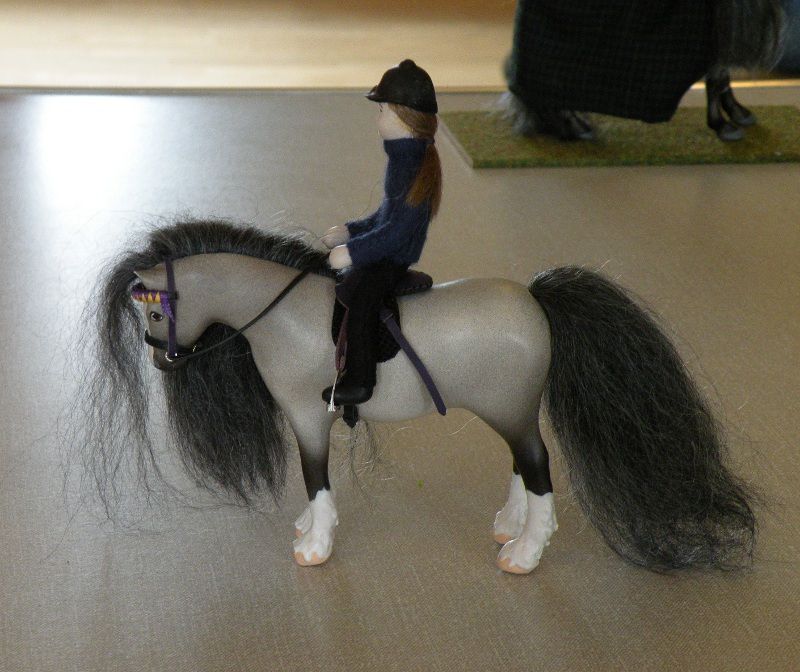 The performance was split into Jumping and Other, so we were treated to a ring full of jumping horses...and one who didn't quite make it over the poles...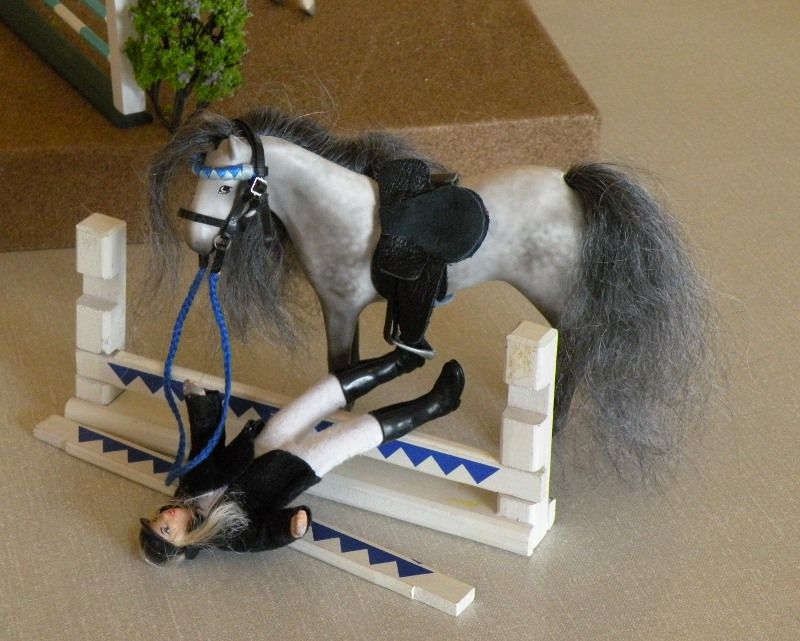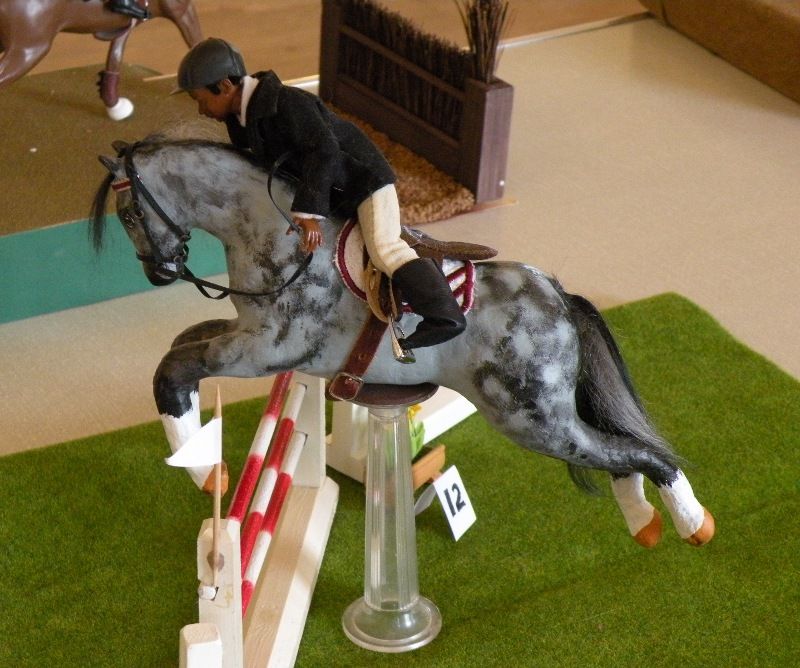 Manda's The Aviator, aka Biggles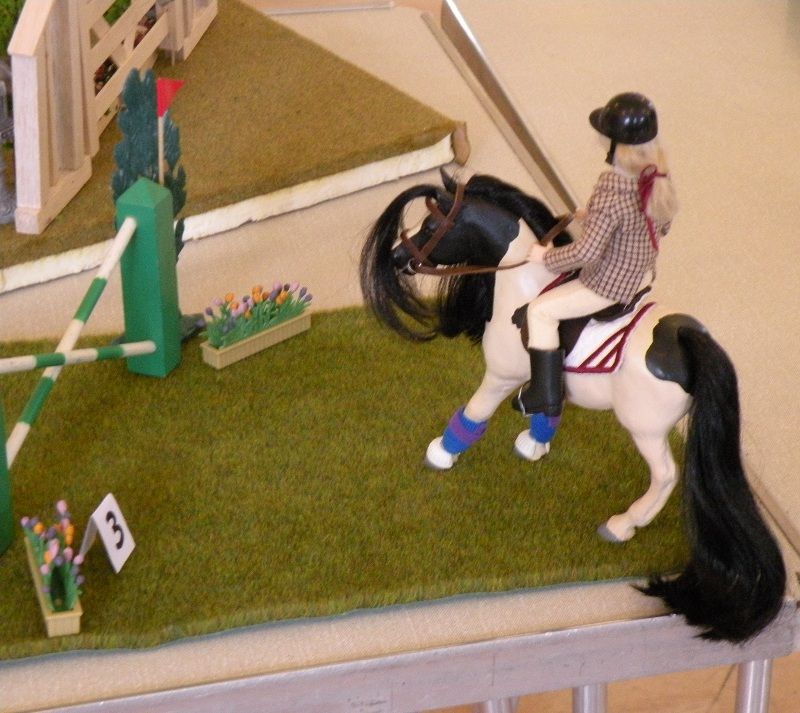 Manda's Coral Cove
Josie's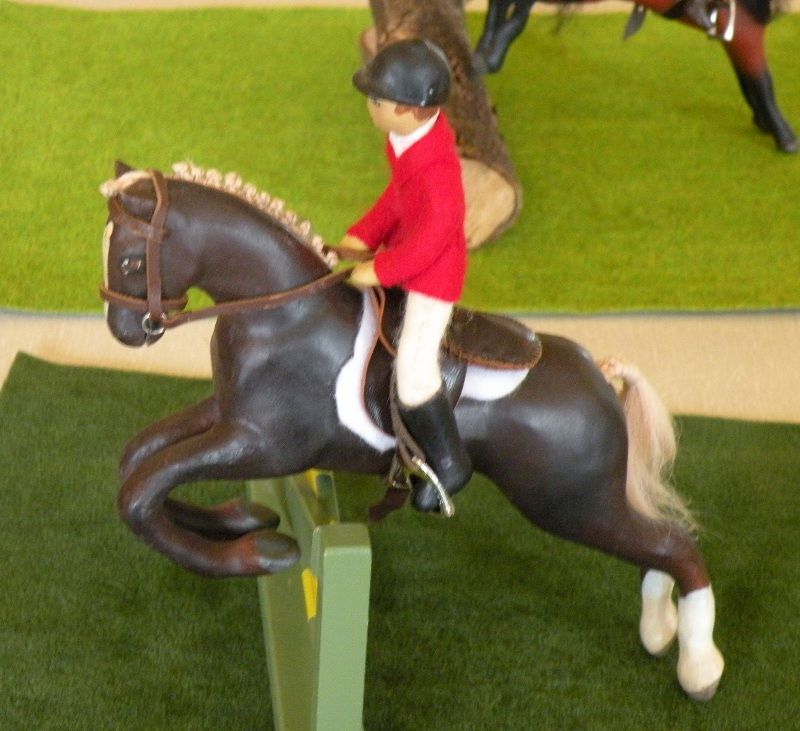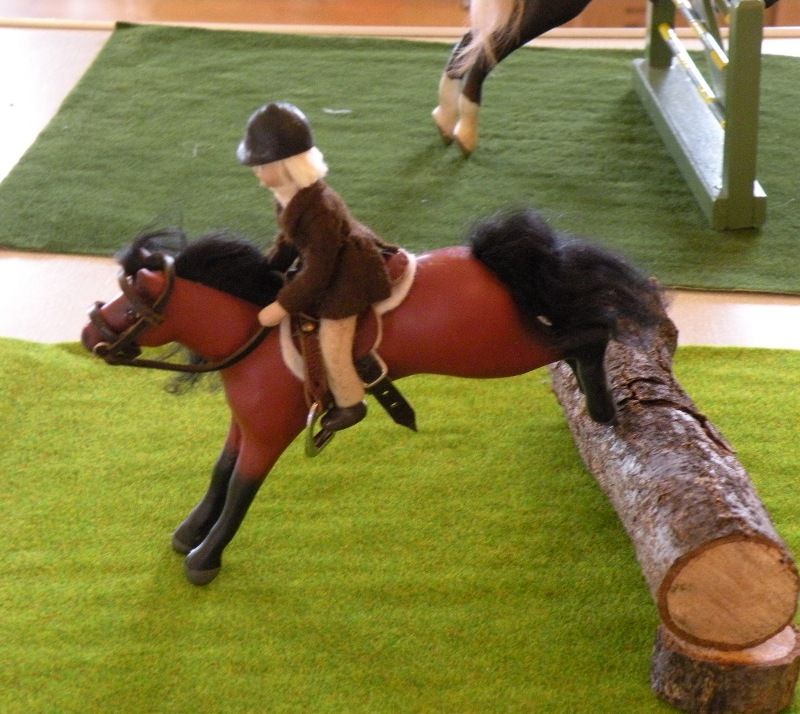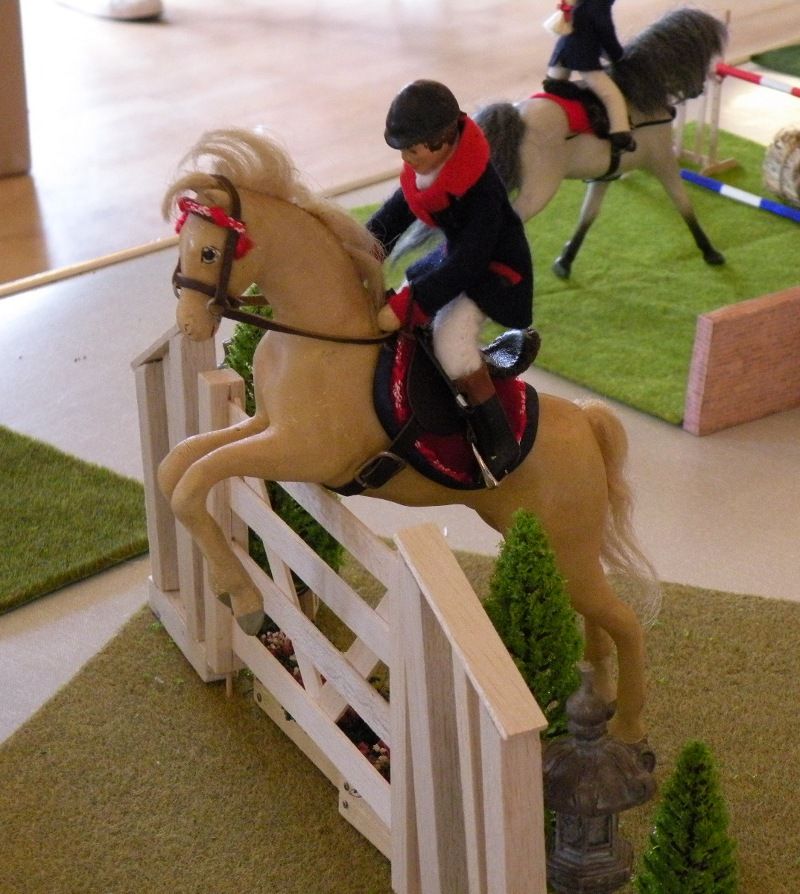 Stacey's Nautical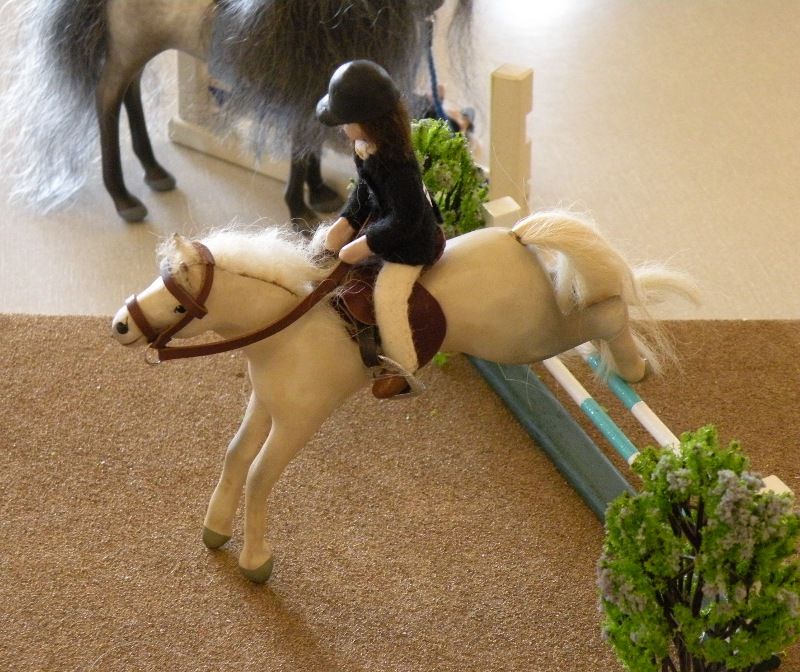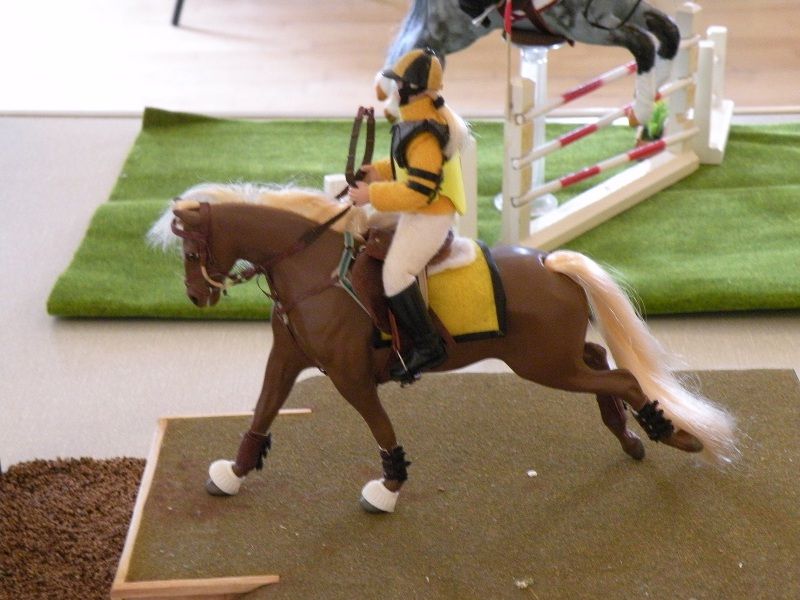 My Petra - I managed to leave part of her XC jump at home, usually she has a ditch with a landing side as well, and the brush is stood on top of that (like the Burghley 'Cottesmore Leap') but this time the brush had to stand on the table so it was a sort of weird drop/step arrangement - but oddly enough this was enough to win the class when it's only ever been as high as third before, so perhaps forgetting half your set-up is the trick to improving how it does in shows

The championship for Ridden/Performance was another very tough vote, so many great entries which were good for all different kinds of reasons, but the winners of the vote were...
Josie's Rufus ready for XC, and my Temeraire as a ridden show cob
I didn't get many pictures of the Fun classes, but I did grab a quick family snapshot in the pairs class by standing new foal Ostar with my Starri and Stacey's Zora, who've been doing pairs classes together for years but haven't had a photo along with their foal before :lolL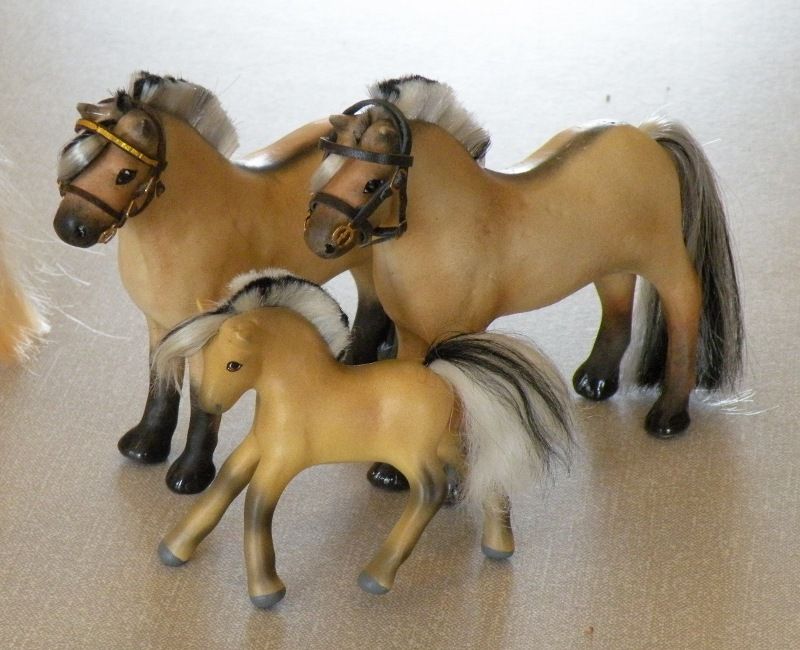 I missed getting a pic of the fun championship winner, cos it had been whisked away before I got my camera, but this one was the reserve
In the supreme championship, Rufus and Temeraire did it again, and took home the two biggest rosettes of the day